responsible housing Kampala
marc thorpe design joins stage six and échale international in uganda to develop sustainable and ecologically responsible housing in east africa. According to the Uganda Bureau of Statistics, Uganda has a deficit of 2.1 million housing units and an annual growth rate of 200,000 units. By 2030, the deficit is projected to reach three million units.
The goal of the camp house project is to provide housing for middle- and low-income families. each house will be built of compressed earth. today, the supply of housing is very low and it is often of poor quality. stage six, échale international and marc thorpe design aim to alleviate this pressure on the housing market and the Ugandan population.

visualizations through truetopia
eco-blocking of compressed soil
The team behind the kampala house project is marc thorpe design (see more here), stage six (see more here) and échale international (see more here). echale international's first homes will be built in the spring of 2022 in uganda.
each camp house is built through echale international eco-blocking, a compressed earth brick. 90% of the block is produced with local soil and 10% with a mixture of cement, lime, sand and water. It is an environmentally sustainable thermal and acoustic insulator that is more resistant than cement block and produces 30% less CO2.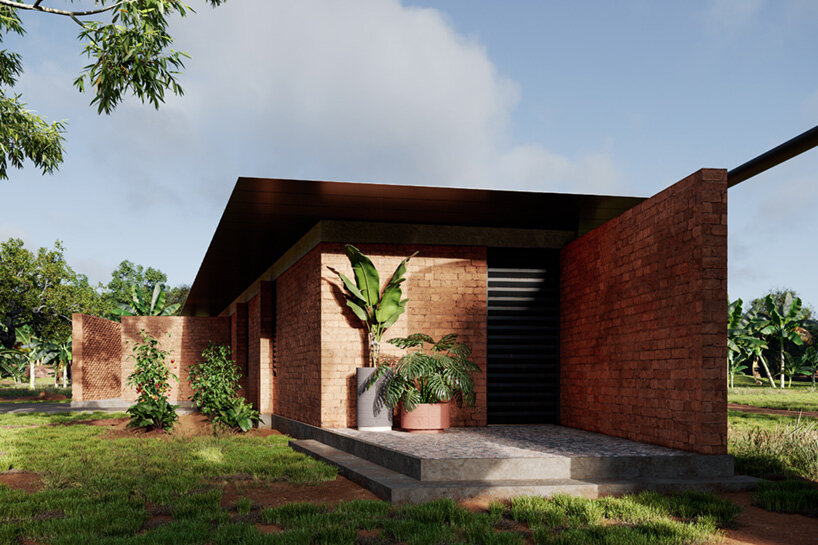 uganda housing marc thorpe designs
The camp project designed by marc thorpe will include a range of different sized houses to be built in partnership with africa. The typical house has three bedrooms, two bathrooms, living room, dining room and kitchen. attached to the kitchen is an outdoor wood stove for outdoor cooking, usually in Uganda. a large terrace covers the front and side of the house, allowing you to gather space for outdoor activities in the shade.
above the house is a large corrugated steel and wooden roof, designed to hold a bunch of solar panels, collect rainwater, and store it in an adjoining water tower. The concept of a water tower for each home is to provide a community water supply network that can be accessed and shared in the event of a drought.